blog
Place For Best Piano Lessons In Singapore
Parents naturally want the best for their kids. Hence, if your child showed interest in learning the piano, don't let the chance of having a professional pianist in the family skip away. Urge your kids to start pressing those keys and making beautiful music and melodies. But would letting them learn and explore at home be enough? Of course, not. It is your responsibility as a devoted parent to find the best place for your kids to learn the piano. And if you wonder about the various piano class for kids fees, you have come to the right place.
Having a flawless track record in the music school industry, Cristofori had become the home of exceptional musicians for over 40 years. As of late, there have been roughly 80,000 parents who chose Cristofori piano lessons. They offer a unique course structure specifically designed to address every child's learning ability and progress through incomparable teaching and supervision.
In this ultimate guide, you'll learn more about the different factors you need to consider before enrolling your child in a private piano lesson. You'll also learn the benefits he could achieve in doing so and wanting to know about the piano lesson price Singapore typically offers.
Piano Lesson at home VS. Private Lessons
There are significant differences between learning piano at home and learning piano with a private teacher in schools like Cristofori. If you opted to let your kids learn piano at home, you'd have to consider getting them their own piano. At the same time, most music schools offer musical equipment rentals. The difference between buying a piano and renting out one could greatly affect your finances.
If your child hasn't decided what type of piano he wants to learn, renting out a piano is encouraged. There's still a chance that he would outgrow, wanting the piano and switching to another one. Besides the finance division, music schools like Cristofori have excellent amenities and full equipment that your kids could use while learning with them.
Factors to Consider
It's okay to be apprehensive when it comes to letting your child learn how to play the piano through a private lesson. But fret not, as our musical experts rounded up the most critical factors that parents need to consider when choosing the best place for piano lessons in Singapore.
This is one of the most crucial factors you need to determine before enrolling your child in any music school. Determine what type of piano your child wants to learn. Remember, various keyboards have many keys and patterns. There are primary types of piano that you could choose from: the Grand, Upright, and Electronic Piano.
Budget

and Skill Level
Having a specific budget for your kid's piano lessons is a logical thing to do. Your budget often dictates what type of piano lessons your child needs. Besides budget, your kid's level of skill in playing the piano is also a crucial factor. Your child's skill level would determine the course he would need. Cristofori offers three courses that target beginners, intermediate and advanced players.
The teacher's qualifications are also important factors that need to be considered. Identifying whether the teacher is a part-time or full-time teacher may also affect the lessons' learning level and price. Most lessons with a full-time teacher charge more than lessons with a part-time teacher. Full-time teachers are often more experienced, so it's expected that their lessons are somehow more expensive, too.
Music schools vary in the courses they offer. However, most of them offer fundamental lessons targeting beginner learners. In Cristofori, there are three courses offered. First is the Beginner Piano Lessons, which is a lesson for a complete beginner. Cristofori partnered with an international piano pedagogy specialist based in Michigan, USA, Dr. Randall Faber, to develop their Piano Adventure Method. This method aims to teach children and even adults based on their cognitive, creative, and personal development.
They also offer the Classical Music Approach. Their academic team constantly researches and updates their teaching materials, methodologies, and tools to time-proof their curriculum. They even partnered with world-leading institutions like the SUZUKI method from Japan, Orff-Schulwerk Organisation from Germany, and Kodaly Method from Hungary.
And lastly, they offer a Contemporary Music Approach, which MOE Certified Teachers teach with rich backgrounds. Some of these teachers are instrument-specialists and even have diverse performance experiences as a secessionist. This course comprises a fully-covered progression pathway for their learners, from pure beginner to diploma level.
Tips to Achieving Perfect Posture and Proper Hand Positioning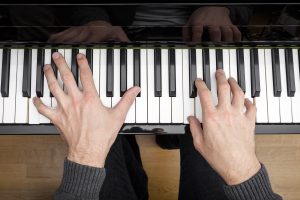 In playing the piano, hand positioning is essential. This serves as a fundamental skill that every pianist needs to learn and master. You may learn visually by watching different clips and videos while waiting for your teacher to teach you about it personally.
However, if you already have a piano at home and would like to start your piano lessons earlier, here are some tips to have a better hand positioning:
Always regard your piano as something you never want to break.

Keep your fingers in a steady but lenient position over the piano keys.

Don't be too stiff or tensed.

Your thumbs should also touch the piano keys.

Your wrists must never touch the piano ledge.

Keep your arms relaxed.

Don't put any strain on your shoulders.

Sit on the bench edge with your back straightened but not too stiff.
Conclusion: Why Should You Take Piano Lessons?
The piano had been tagged by many as a challenging but boring instrument to learn. Most people had been putting off their piano lessons. Well, if you are really interested to learn it, it's about time that you put away your negative thoughts and start learning your piano keys. And if your kids showed any interest in learning it, always give it a go!
If you are still apprehensive about taking your piano lessons or your child's to the next level, you may check out the piano lesson price Singapore offers over the internet. If you don't have time to go to a music school to another, check out Cristofori's official website to see their piano class for kids fees. This music school has a wide range of expertise when it comes to piano and providing lessons.