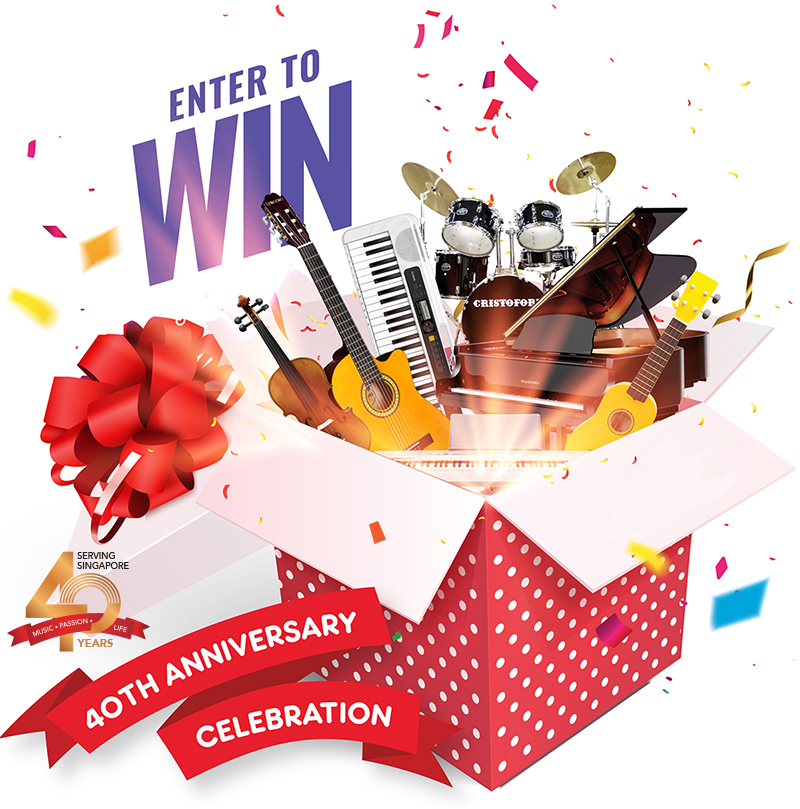 GET A CHANCE TO WIN
YOUR MUSICAL INSTRUMENTS
Piano ● Guitar ● Drum ● Keyboard ● Violin ● Ukulele ● Cajon
With purchase from 1 November 2020 – 31 January 2021
Reference Number: LD/553R/2020
40 Lucky Draw Winners
Piano ● Guitar ● Drum ● Keyboard ● Violin ● Ukulele ● Cajon
Lucky Draw Online Registration is applicable for any of your musical instruments purchase at any CRISTOFORI Music School outlets and CRISTOFORI Music online shopping platform (Lazada, Shopee, CRISTOFORI E-shop, Carousell, Qoo10).

Register your Lucky Draw Online with a valid receipt/order number.
Lucky Draw Winners selected will get Full Refund up to $20,000 for the receipt/order number registered in CRISTOFORI's 40th Anniversary Lucky Draw.

Register your Lucky Draw by 5 February 2021
How To Join?
Exclusive for all CRISTOFORI's customers with any purchase of ukulele, guitar, violin, drum, keyboard, digital piano, cajon, upright piano and grand piano with the receipt from 1 November 2020 – 31 January 2021
Terms and Conditions:
This lucky draw is only applicable for musical instruments purchase from CRISTOFORI MUSIC.
School Fee payment is not applicable for lucky draw entry.
Accessories of musical instrument is not included for the refund.
Payment must be made in full in advance upon enter the lucky draw.
Any cancellation of the receipt payment within the lucky draw period will be null and
void.
Only ONE receipt issued for any musical instruments purchase.
ONE single receipt is valid for ONE lucky draw entry.
ONE NRIC/ FIN is required for ONE lucky draw entry. Multiple entry with same NRIC/FIN is not allowed.
Maximum refund amounts up to $20,000 per lucky draw Winner.
Refund amount is excluded of trade in value, transportation fee, accessories or servicing fee (e.g.: Piano Tuning).
Participation in this lucky draw is subject to these Terms and Conditions. Entry into this lucky draw is deemed acceptance of these Terms and Conditions and any amendments, additions, replacements, variations and modifications hereto shall be final and binding in all respect on each participant.
Non-compliance with or breach of any of these Terms and Conditions may disqualify a participant at any stage of the lucky draw and any prize won may be forfeited, withheld, withdrawn or reclaimed.
All submissions received after the deadline on 5 February 2021 will be null and void without further notice.
A computerised Lucky Draw will be conducted on 6 February 2021. Through this Lucky Draw, the Organiser will pick: Forty (40) Lucky Draw Winners for Full Refund of musical instruments purchase, except GST paid and maximum refund on single receipt is $20,000.
Winners will be contacted by the Organiser via email within 14 days after the Lucky Draw is conducted. Organiser reserves the right to withhold the prize pending verification of the winner's compliance with the Terms and Conditions of this lucky draw.
The Organiser has the right to draw reserve winner(s) to replace any winner who is uncontactable or is subsequently found to be disqualified from the lucky draw. The Organiser will not be held liable in the event the eligible winners cannot be contacted for whatever reasons.
In the event that any winner is disqualified from the lucky draw, the Organiser, at its sole discretion, may decide whether a replacement winner should be selected. In this event, any further winner will be selected on the same processes as set out in these Terms and Conditions. The Organiser can repeat this process any number of times until it has selected a satisfactory winner in accordance with these Terms and Conditions.
The Organiser's decision in relation to a winner shall be final and no correspondence/appeal/enquiry will be entertained.
The Organiser reserves the right to disqualify any participant that is found or suspected of tampering with the Lucky Draw submission process and/or operation of the Lucky Draw.
The Organiser reserves the right, at any time and at its discretion to (a) amend any of these Terms and Conditions; (b) modify, suspend and/or terminate the lucky draw, in whole or in part; (c) change the date, time and venue of the Lucky Draw(s); or (d) substitute any prize/reward with one of similar value. In the event of dispute, the Organiser's decision is final and conclusive.
No person shall be entitled to any payment or compensation from the Organiser should any prize/reward or any part thereof be forfeited in accordance with the Terms and Conditions herein.
By opting in to our lucky draws, you agree that Cristofori Music Pte Ltd may collect, use and disclose your personal data, as provided in the lucky draw stub or CRISTOFORI Music website (www.piano.sg), for the following purposes in accordance with the Personal Data Protection Act 2012 and our data protection policy (available at https://cristofori.asia/main/data-protection-notice/) to administer this lucky draw, including to contact you for the administration of prizes in relation to this lucky draw.
By accepting the verification in accordance with paragraph 5 above, the winners of the Lucky Draw agree that their personal data including name, identification and photographs may be collected, used, disclosed and/or transferred by or between the Organiser and its affiliates for the purpose of conducting and administering the lucky draw, including publication of list of winners in accordance with Clause 12 above and in matters such as publicity and/or use in advertisements across all medias without further notification, remuneration or compensation to the winners. The winners agree to cooperate with and participate in the activities organised by the Organiser for these purposes.
The participant agrees to the Organiser's PDP Policy that sets out details of the Organiser's personal data protection policy, including how the participant may access and correct his/her personal data or withdraw consent to the collection, use or disclosure of his/her personal data.
In the event of any inconsistency between these Terms and Conditions and any brochures, marketing or promotional materials relating to this lucky draw, these Terms and Conditions shall prevail.
A person who is not a party to these Terms and Conditions shall have no right under the Contracts (Rights of Third Parties) Act (Cap. 53B) to enforce these Terms and Conditions.
These Terms and Conditions shall be governed by the laws of Singapore and all participants shall irrevocably submit to the exclusive jurisdiction of the courts of Singapore.